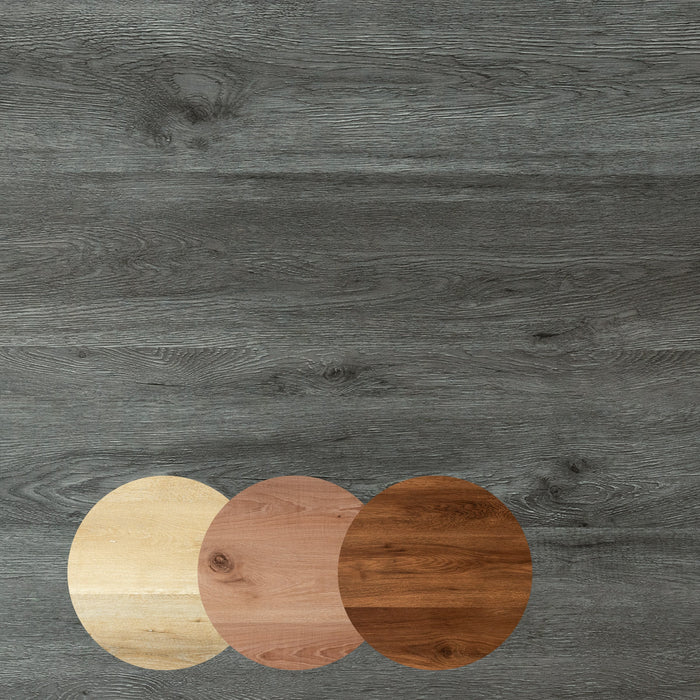 DECKO SPC Flooring - Choose Colour - Price/Box (2.23 SQM/Box)
Plank size: 1220/183/5 mm
Thickness: 4 mm + 1 mm EVA underlay padding = 5 mm
Box:
10 planks in 1 box, covering 2.23 sqm, weighing 17kg
Description:
DECKO SPC (Stone Polymer Composite) Flooring is the most advanced and innovative type of rigid core water and fire proof indoor flooring product, perfect for any home, rental property, hotel, motel commercial fit-out, or shop.
Unilin Patented self-interlocking watertight technology
100% waterproof with watertight joints
5mm thick, perfect for laying over existing flooring
Antibacterial and Antifouling surface
Healthy, Clean – Formaldehyde free
Ultra-realistic natural wood look
Hard-core Stone Polymer Composite with excellent dent resistance
Fireproof 
High wear and scratch resistance (0.3mm wear layer)
Nonslip and pet friendly
UV resistant and keeps colour
Integrated acoustic EVA underlay padding reduces sound and vibration
Easy cut technology, using only a Stanley knife
10 years residential and 6 years commercial warranty
Very durable with excellent dent resistance (commercial grade)
Designed to be as easy as possible to DIY
No additional underlay required
Floating floor type, no adhesives required
Applicable over floor heating
Can be laid on existing flooring, even tiles! (except carpet)
Commercial fit outs (DECKO SPC has commercial grade durability)
Residential homes for ANY ROOM
Lay directly over existing flooring, even tiles! (except carpet)
Bathrooms
Showers (Yes, right underneath the shower head. NZBC E3 compliant)
Kitchens
Living rooms
Hallways
Hybrid indoor/outdoor spaces
The SPC Core itself is made from 60% limestone, and the rest is Polyvinyl Chloride and plasticizers. 
5 distinct layers of a DECKO SPC board:
UV coat
Wear layer
Décor film layer
SPC core
EVA back padding
At DECKO, the entire flooring process can be completely DIY, with the SPC planks having seamless interlocking edges, a special easy to install skirting system with 45-degree pre-cut ends for easy and strong hidden joins and a DIY Toolbox to help cuts and install.